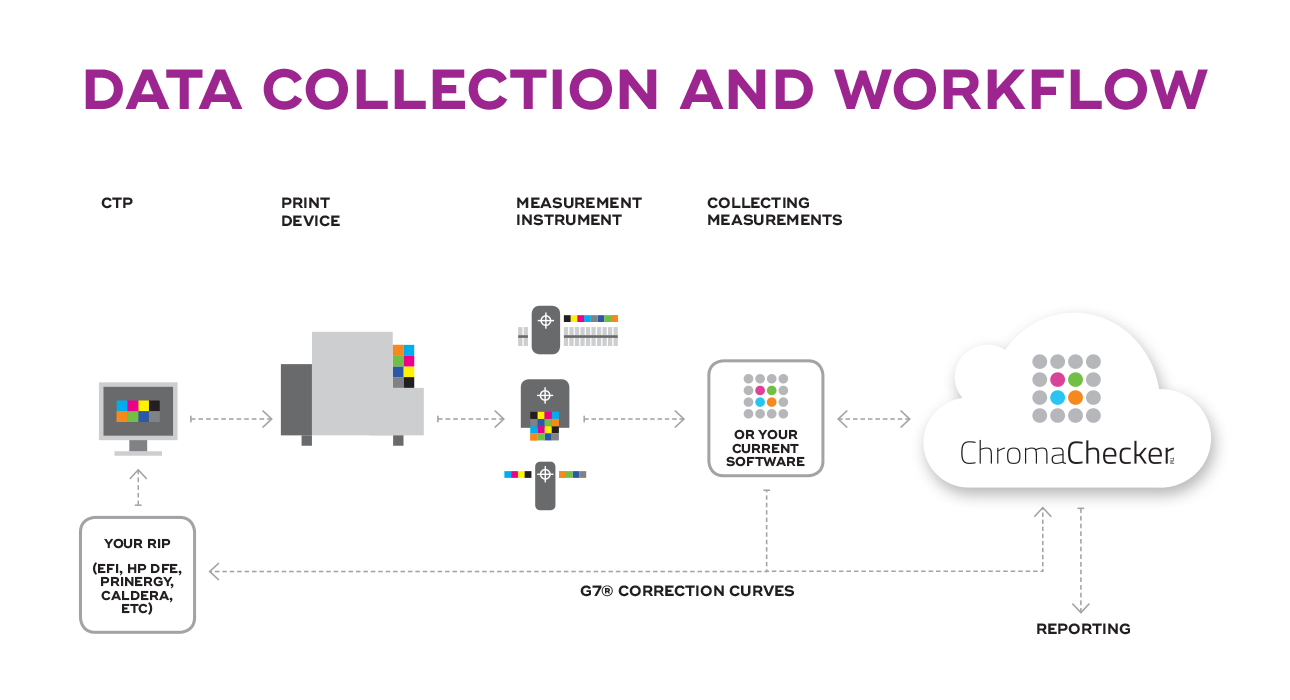 Many programs can work at different levels
with ChromaChecker. For data reception, two
primary methods have been developed: manual
and automated. The applied technologies give
you speed but also safety which is a significant
feature of the whole solution.
In order to improve automation, our dedicated
DataCollector program takes over the data
transfer functions. Many programs that
automatically save measurement results may
work in the background without additional
operator intervention.
ChromaChecker™ Ready Software*
ChromaChecker™ Data Collector
basICColor Catch 5
Print Measure
Babelcolor Patch Tool
ChromaChecker™ Compatible Software*
Alwan Print Verifier (APV)
Alwan Print Standardizer (APS)
Rutherford
Data Collector Compatible Software*
Heidelberg Image Control with Quality Monitor
X-Rite IntelliTrax
X-Rite EasyTrax
Digital Information Ink Zone Move
Press Sign
QuadTech SpectralCam
AVT/GMI
EFI Fiery XF
Techkon Expresso
KBA software with the export option
GMG
ORIS CGS
Measure Color
SpotOn
Supported Measurement file formats
Virtually any instrument that measures spectral or colorimetric data can be used with ChromaChecker™ Cloud if it can save measurements data in on of listed bellow file formats:
CGATS (*.txt *.it8)
SVF (.svf)
XML (ISO 28178) (.xml)
CxF (Multiple versions)
GMG
Colorimetric data provide limited analysis. Most ChromaChecker™ features require spectral data.
Supported Instruments*
Handheld Instruments
X-Rite i1 Pro 1 & 2
X-Rite eXact / eXact Scan
X-Rite Spectrodesitometer 530
X-Rite SP6X
GretagMacbeth Spectrolino
Techkon Spectrodens
Konica Minolta FD-5; FD-7
Color Sentinal
XY Instruments
X-Rite i1iO 1 & 2
X-Rite i1 iSis 1 & 2
Konica Minolta FD-9
Barbieri Spectro LFP
Barbieri SpectroPad
Press/ Printer Built-in Instruments
X-Rite Intellitrax 1 & 2
X-Rite Easy Trax
Techkon SpectroJet
Techkon SpectroDrive
Heidelberg Image Control
Heidelberg Axis Control
Heidelberg Inpress Control 2
Epson SpectraProofer
QuadTechSpectralCam
KBA Hardware/Software (2013+)
Komori PDC-SX / S1 / S2
HP Indigo 12000 (coming soon)
Xeikon Inline
AVT/GMI